Gaming desks will surely improve your gaming experience, regardless they might affect where you land on the leaderboards or not. Don't underestimate the pleasure and comfort you gain from an ergonomic desk. We've looked into what makes the best gaming desks so fantastic. That includes such factors as height adjustability, desk space, ruggedness, and additional features like RGB backlighting. So, let us help you pick the one that's right for you.
Read more: https://outgamers.com/best-budget-webcams-for-youtube-streaming/
Top Gaming Desks
If you've already invested in a great gaming chair, there's no better way to complement one than with one of these desks.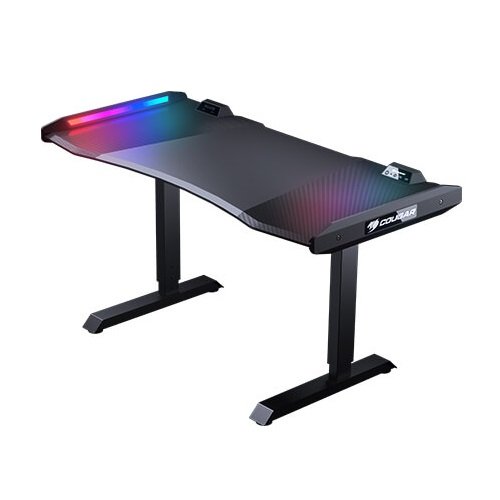 Cougar Mars – Gaming Desk
Specifications
Type: Standard
Height range: 29.5 inches – 33.5 inches
Desktop size: 60.4 inches x 30.4 inches
The Cougar Mars is the best gaming desk around if you want one that's as big as it is durable. It's heavy and takes time to assemble, but once in place is rock-steady thanks to its sturdy steel frame which offers three manual levels of height adjustment. A capacious textured carbon fiber surface that's large enough to accommodate two 27-inch monitors with room to spare sits atop the desk, which sports two RGB lighting strips that can be connected to a PC's motherboard for syncing with gaming peripherals, which helps keep your wiring setup neat and tidy.
DXRacer E-Sports Gaming Desk
Specifications
Type: Standard
Height range: 31.5 inches
Desktop size: 47.3 inches x 31.5 inches
The DXRacer is angled at 10-degrees to make resting your arms and elbows on it more comfortable, made of wood with an ABS plastic frame. It is available in black, green, red, or white with plenty of space for sneaking wires around the back via a large opening. This sturdy e-sports-inspired computer desk is suitable for gaming or office work thanks to its reinforced 'double triangle' design that keeps desk shake to a minimum and its bottom edges are padded to reduce pressure on your arms and elbows.
Arozzi Arena Leggero
Specifications
Type: Standard
Height range: 28.5 inches
Desktop size: 44.9 inches x 28.3 inches
One of the largest gaming desks on our list, the grandiose Arozzi Arena is an eye-catching slab of MDF wood that places you closer to the action thanks to its ergonomic front curve. It is available in red, white, or black, it's convenient to boot thanks to its microfiber surface which is waterproof, easy to clean, and removes the need for a mouse mat. Another useful feature is its cable management pouch that's positioned underneath the desk and works in tandem with three cut-outs used for snaking wires out of sight.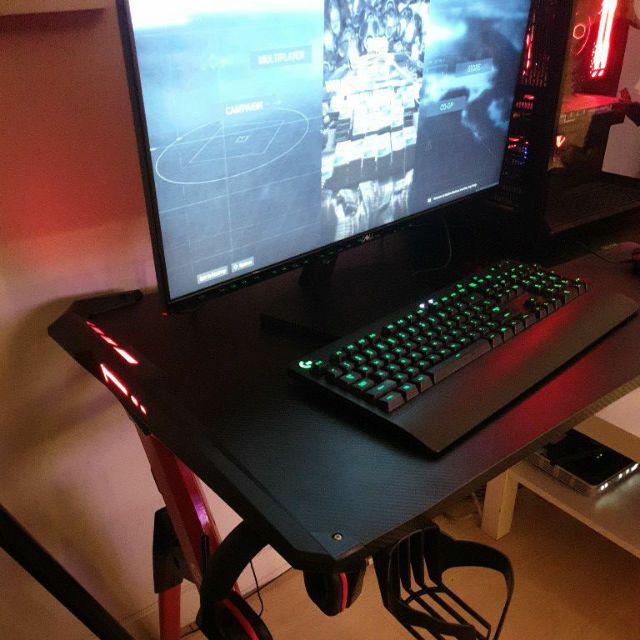 FANTECH Beta GD612 Gaming Desk
Specifications
Type: Standard
Height range: 30 inches
Desktop size: 47 inches x 25 inches
If gaming desks are too gaudy for you, this traditional-styled alternative from FANTECH will help raise your game without breaking the bank. Its elevated top shelf is suitable for positioning a larger monitor or two smaller ones, which leaves the lower-tier free for laying out an ample-sized mouse pad. It is reinforced by horizontal metal bars and supported by long legs at the base, the FANTECH Beta is plenty sturdy despite its tall frame.
Gamdias Daedalus E2 Gaming Desk
Specifications
Type: Standard
Height range: 30 inches
Desktop size: 45 inches x 24 inches
While the Gamdias Gaming Desk has a shorter width than others, it has a wider minimum and maximum height range, allowing you to quickly adjust it on the fly. Another interesting feature is the fine-textured surface, which feels like a high-quality mouse mat. You can also opt for a version with an oak or bamboo finish if you'd rather use your own mousing surface.