XPG GAMMIX D30 is a must-have for gamers looking to improve their performance under budget. As written in the title, XPG GAMMIX D30 is the best budget RAM you can invest in 2021, not only will your download time diminish but also your games will have more speed and flawlessness. Apart from being a budgeted RAM, XPG GAMMIX D30 is also certifiable to provide a performance to win.
So without further ado let's talk about the factors that make up for essentials in a great gaming RAM. To begin with, you have to check which DDR Generation your motherboard will support. It is important because old generation DDR memory will not be supported by motherboards that were designed to support new generation DDR memory. For instance, a motherboard that has DDR4 DIMM slots will never support DDR 3 memory.
Now let us address the mystery of motherboard DIMM slots. You have to be aware of how many slots your motherboard has. For instance, smaller form-factor motherboards (micro-ATX and mini-ITX) can only support two DIMM slots, so you can't fit 4 RAMs in it.
More often than not, people overlook the compatibility issues between memory kits and CPU heatsinks. Make sure those bulky air CPU coolers are not interfering with your DIMM slots with tall heat spreaders.
The form-factor of RAM is another important factor that contributes to the buying decision. There are two main, form factors; DIMM and SO-DIMM. The desktop form factor or DIMM will only work on PC whereas; the SO-DIMM or the laptop form factor only works on laptops. So make sure you don't end up buying the wrong one.
Lastly, the most pressing issue for gamers is the frequency and latency of RAM. For best results, look for high-frequency rate and low latency rate.
XPG GAMMIX D30 Specs
| | |
| --- | --- |
| Speed | DDR4-3200 MHz |
| Timing | 16-20-20 |
| CAS latency | 16 |
| Voltage | 1.2V – 1.4V |
| DIMMs | 2x8GB |
Edgy- Winged Shaped Design
XPG GAMMIX D30 has appealing gaming aesthetics. The edgy-winged shape is appealing to gamers because of its ruggedness and its color contrasts. Many find the design appealing because of the sense of power and stealth it exhibits. The RAM is encased in a gray, sleek heatsink that diverges elegantly and beautifully with your choice of a radiant red or black top cover. The gaming RAM has dimensions of 133 × 8.1 × 44.7 mm.
Excel In Performance
XPG GAMMIX D30 gives you a performance guaranteed to make you win, because of the spectacular speeds ranging from 2666MHz to 4600MHz that will surely enhance your frame rate and system responsiveness.
In addition to providing a good speed range, XPG GAMMIX D30 supports Intel® X299 2666MHz and AMD AM4 / Ryzen platforms. The Intel memory profile enhances the system's stability and allows you to adjust individual parameters through the operating system instead of BIOS.
You Are Betting Your Money on Quality Here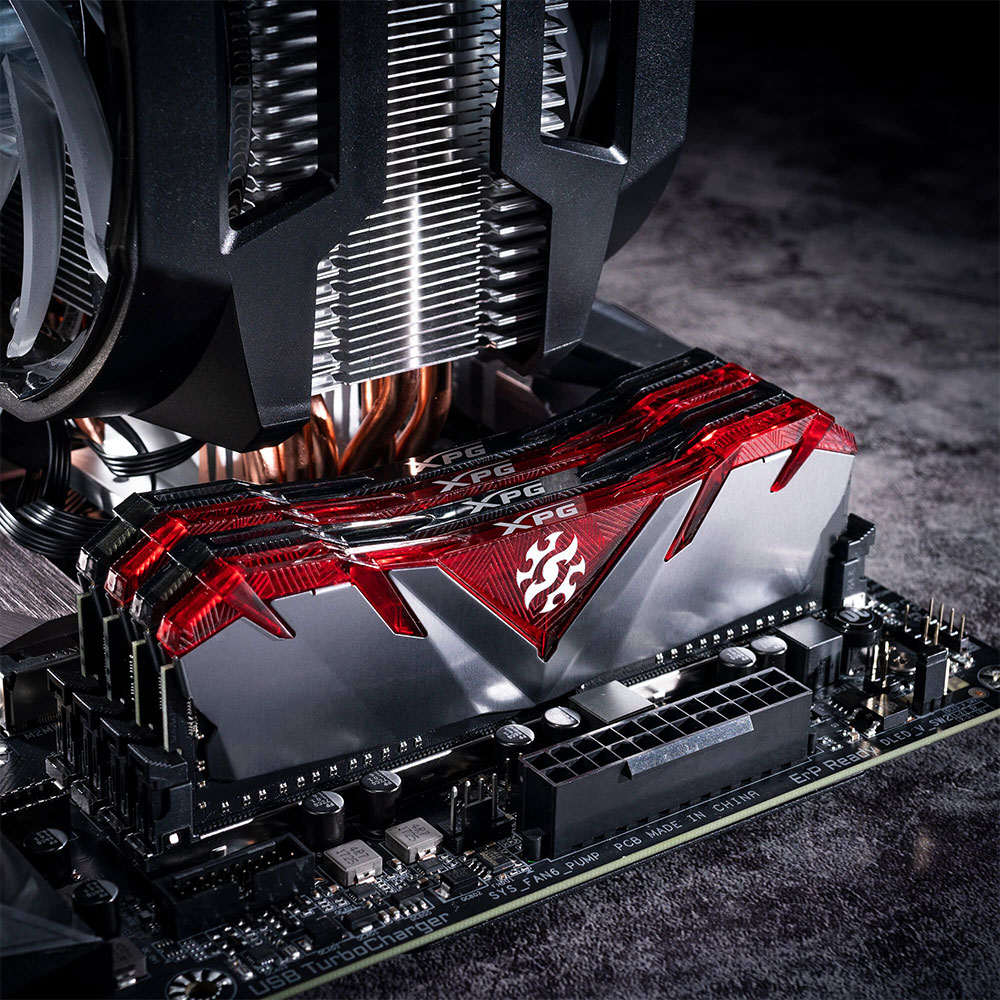 The chips used in XPG GAMMIX D30 are of the highest quality and are selected and filtered through a strict process. In addition to the chips, GAMMIX D30 also uses Printed circuit boards (PCBs) of top quality, whose function is to effectively extend the lifespan of the memory module.
In conclusion, XPG GAMMIX D30 is totally worth the price and deserves your money if you want to effectively and quickly bring about a change in your gaming style and impress your competition.