Fantech HIVE UX2 is the best budget mouse out there, just as the title reads. Fantech HIVE UX2 acknowledges and contains every required feature of a promising gaming mouse ranging from aesthetics to quality performance.
Without further ado, let's dive into the factors that make a great gaming mouse, such as Fantech HIVE UX2.
To begin with, the play style of your game matters, that is, your gaming mouse requirement depends on the game you intend to play. Say, if you are an RTS and MMO gamer, you will need a mouse with additional buttons that will provide you with different functions whereas if you are an FPS gamer, you'll need a quick tracking mouse that will help you focus on accuracy.
Secondly, you have to determine the sensor as per your preference. Mostly, the choice is between an optical and a laser sensor, where a pro-optic mouse gains an edge based on providing users with more reactive sensors and less lag than a laser mouse.
Moreover, the debate between a wired vs. wireless mouse is still ongoing. It was a pressing issue when the wireless mouse was considered less responsive for high speed and reactive games; however, the issue has been resolved with rising technology. Wireless mice are as good as a wired mouse, in addition, to be more expensive.
DPI and CPI are the two most important features of the best gaming mouse.
DPI refers to the rate of pixels your screen cursor will move per inch of movements of the mouse. To amount of DPI you need is directly proportional to the size of your monitor or screen, that is, the larger the screen the higher DPI you need to gain a more significant mouse movement on the screen per inch of the progress of the mouse.
CPI refers to the physical resolution of the camera that is used in the mice sensors, in other words, it represents the sampling per inch. Hence, both CPI and DPI decide the sensitivity of your mouse. The higher the sensitivity the better the performance.
The weight of your mouse will definitely influence your gaming experience, if you are a player who often flicks their mouse while playing then you need a lightweight mouse or one that has detachable components.
Lastly, the grip style and customization of the mouse vary according to every individual. Your grip style- fingertips, claw, or palm grip- is essential because it helps determine the weight and customization of the mouse. As a gamer, look for a mouse, which can easily be customized to your preference in terms of buttons and software.
Fantech HIVE UX2 Specs and features
| | |
| --- | --- |
| Sensor | PixArt 3360 |
| Max Sensitivity (DPI) | 12,000 DPI |
| Programmable Buttons | 6 |
| Dimensions (H × W × D) | 125 × 64 × 39 mm |
| Weight | 74 g |
Winning Performance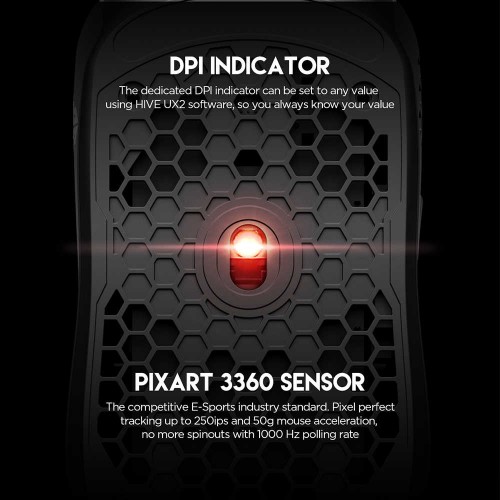 Fantech HIVE UX2 is designed to give you a winning performance under a budget. Let's begin by talking about the adjustable DPI on this thing which goes to 12,000 on the high end a 100 on the low end. As mentioned above rate of pixels your screen cursor will move per inch of movements of the mouse. I would say that for the market price at which Fantech HIVE UX2 is offered, 12000 max DPI is certainly not bad.
That said let's talk about the PixArt 3360 gaming sensor is a pro-optic sensor that is a wonderful option to go by, and some often describe its tracking as unrivaled.
In addition to an extraordinary gaming sensor, the Fantech HIVE UX2 has a polling rate of 1000 Hz, which means that your mouse will refresh 1000 times each second offering a delay of only 1ms. Which in layman's terms, means that Fantech HIVE UX2 is an efficient and responsive mouse.
Comfortable Usage
Fantech HIVE UX2 is made to prioritize your comfort. It has an ambidextrous shape that makes it easy to hold on to it for long hours. Along with a weight of 74 grams, and a 1.6m paracord cable this is one of the most easily handled mice out there. It is something that you can hold onto for long hours without hurting your grip.
Aesthetically Pleasing
The most promising feature of Fantech HIVE UX2 is its aesthetics. The delightful honeycomb design comes in 7 RGB color modes that you can customize for a dope gaming experience.  You can adjust everything from buttons assignment, macro editing, sensitivity, scroll and double-click speed, the DPI stage, then report rate, color, and even the effect of RGB light. Which can be saved onto its onboard memory.   
Conclusion
Fantech HIVE UX2  is truly the most promising deal you'll find in the market. With its price of under Rs 10,000, it is a remarkable under-budget gaming mouse. You can order it now or can easily find it at any computer store.