Bloody J95 2 Fire is one of the cheapest gaming mice out there with unique features. Not only does Bloody J95 2 Fire fulfills the criteria of a decent gaming mouse but also goes above and beyond in providing useful features beneficial for gamers. As the title reads, the 6 sniper modes are not something available in most gaming mice, making Bloody J95 2 Fire a special gaming mouse.
Before we move on let's discuss the checklist on which the mouse will be rated. To begin with, the play style of your game matters, that is, your gaming mouse requirement depends on the game you intend to play. Say, if you are an RTS and MMO gamer, you will need a mouse with additional buttons that will provide you with different functions whereas if you are an FPS gamer, you'll need a quick tracking mouse that will help you focus on accuracy.
Secondly, you have to determine the sensor as per your preference. Mostly, the choice is between an optical and a laser sensor, where a pro-optic mouse gains an edge based on providing users with more reactive sensors and less lag than a laser mouse.
Moreover, the debate between a wired vs. wireless mouse is still ongoing. It was a pressing issue when the wireless mouse was considered less responsive for high speed and reactive games; however, the issue has been resolved with rising technology. Wireless mice are as good as a wired mouse, in addition, to be more expensive.
DPI and CPI are the two most important features of the best gaming mouse.
DPI refers to the rate of pixels your screen cursor will move per inch of movements of the mouse. To amount of DPI you need is directly proportional to the size of your monitor or screen, that is, the larger the screen the higher DPI you need to gain a more significant mouse movement on the screen per inch of the progress of the mouse.
CPI refers to the physical resolution of the camera that is used in the mice sensors, in other words, it represents the sampling per inch. Hence, both CPI and DPI decide the sensitivity of your mouse. The higher the sensitivity the better the performance.
The weight of your mouse will definitely influence your gaming experience, if you are a player who often flicks their mouse while playing then you need a lightweight mouse or one that has detachable components.
Lastly, the grip style and customization of the mouse vary according to every individual. Your grip style- fingertips, claw, or palm grip- is essential because it helps determine the weight and customization of the mouse. As a gamer, look for a mouse, which can easily be customized to your preference in terms of buttons and software.
Bloody J95 2 Fire Specs and Features
| | |
| --- | --- |
| Sensor | PixArt PMW3325 Gaming Engine |
| Max Resolution (CPI) | HD Ultra 5,000 |
| Tracking Speed | 100 IPS |
| Dimensions | 131 × 78 × 43 mm |
| Weight | 160 g |
Ultimate Gaming Gear
Well, to begin with, Bloody J95 2 Fire has an ideal-for-gaming optical sensor technology. This pro-optic mouse enables sensors that are more reactive and have less lag, making it a perfect choice for gaming. Not only does the PMW 3325 5K optical gaming engine utilize auto-adjust frame rate technology with low power consumption, over-bounded and accurate position. It also uses the HD hardware resolution using a 1:1 ratio of the optical engine and 5000 CPI adjustable to fit for a 5K large screen.
The staggering list of features continues to a button lifetime of over 20 million clicks and a precise key response rate of 1ms. Let's not forget the 160k memory, which allows you to make all the customizations to be written directly to the mouse as you can.
Continuing with the feature list that makes Bloody J95 2 Fire the ultimate gaming gear, we have Metal X'Glide Armor Boot, an advancement that eliminates friction on nearly any surface for smoother motions, precise cursor movements, and improved accuracy.
Lastly, we have soft rubber grips on both sides that ensure long-lasting comfort during the most heated FPS competitions.
Is 6 The Lucky Number?
First of we have the 6 sniper modes that allow you to instantly upgrade sniping techniques by applying these modes. You can customize the functions in the settings.
Moving on to 6 weapon modes found on the left key is where you can control 6 weapon modes with the left key by presetting 1 / N / 3 / scroll button / 2 side buttons via bloody mouse software.
And lastly, you cannot miss the extra fire button which can be activated by button F, and then you can customize different fire modes. And with the button L, you can control 3 weapon modes of Left Key by pressing 1 / N / 3.
Customizable RGB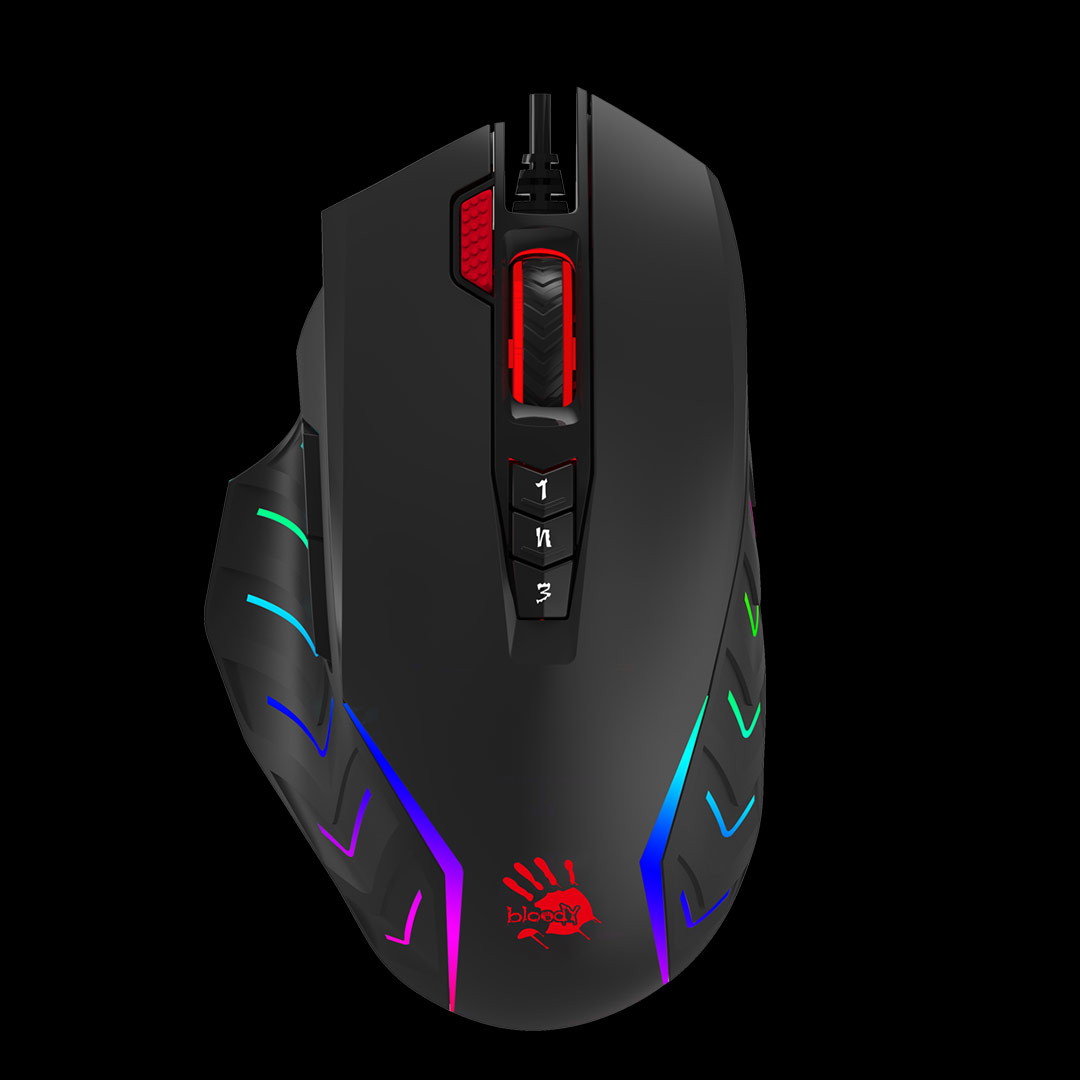 Customizable RGB is no big deal in gaming keyboards, but in gaming mice, it is a spectacular addition. Bloody J95 2 Fire allows you to have 15 zones of customizable RGB color animation, which you can access via the editing software that allows for personalized creative lighting effects with 16.8 million colors!
This aesthetic fun doesn't end there and moves onto default 5 RGB lighting effects. There are 5 types of lighting effects that are preloaded by default so you can adjust the lighting effects by raising the mouse and pressing [1] to rotate.
Should You Go For It?
Well, if you want to up your gaming performance to an adequate standard without having to pay too much then Bloody J95 2 Fire is the perfect choice for you. You can order it here.