Crash Bandicoot is experiencing some major hassle with much news of rumors are being broken. You may recall a while back that a mysterious new teaser image was discovered within Crash Bandicoot 4: It's About Time, showing a jump fruit surrounded by orange and blue swirls. Fans have come to expect this to represent a 1v1 game called Wumpa League, but not much has come of it in the intervening months. However, Activision is clearly teasing something now, with influencers and gaming press receiving Crash-related goodies.
What's Happening in Crash Bandicoot?
Yesterday, a small selection of gaming personalities and publications took delivery of a wumpa fruit piñata, along with a miniature hammer with which to break it open.
The card sent along with it reads:
"Crash has been on the most N. Sane adventures in the past 25 years: battled the toughest bosses, traveled to the craziest dimensions of time, and even met some friends who were way out of his league. Celebrate by eating Crash's favorite snack, a wumpa fruit, with you and your team!"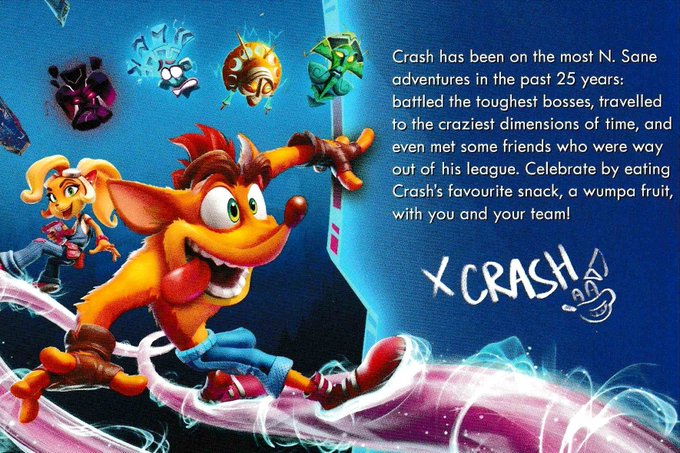 What's Expected?
The hammer bears the so-called Wumpa League logo, and the use of the word "league" on the accompanying card lines up with it as well. We've no idea what the game itself will look like. But we're guessing it to be a modern interpretation of Crash Bash or maybe the new competitive mode for Crash 4.
The timing is also very interesting; PlayStation Showcase 2021 airs in a matter of hours. There's a chance it's a coincidence, but a Crash Bandicoot announcement during Sony's presentation seems quite likely, doesn't it?
Read more: https://outgamers.com/puzzle-car-minimalistic-puzzler-with-50-levels-ready-for-ride-this-sept-on-switch/