It is hard to keep up with technological advancements nowadays. With every new product advancement, there is a touch of innovativeness, and to discard your current device for every new release seems a bit foolish, but at the end of the day, you have to upgrade if you want to keep up with the world.
To make your life easier we have assembled some of the best cheap laptops for you to choose from but before you move on to the list, you really need to understand some factors that would affect your buying decision.
The first thing to look out for is the size of your laptop. Clearly, the portability of your device is an issue that can't be ignored, hence, make sure to not get anything bulky. If you can work with an Ultrabook then go for it otherwise just make sure that your device won't be a hassle for you.
Continuing on the previous point regarding portability, you might want to check the battery life of your laptop. When traveling, continuous charging can be a bit of a problem, so look for laptops that have longer hours of standby battery. Check the ratings on Watt-hours (Wh) or milliamp-hours (mAh), the bigger the number the longer it can go without charging.
The speed of your laptop depends on its RAM; fast downloads, smooth running of multiple apps at the same time, or any other command you want to be carried out immediately requires good RAM. The minimum RAM requirement is 4 GB but for high-power software use 8 GB RAM.  
You can't get an immaculate experience with a bad screen. Screen quality is definitely an important characteristic of a laptop; try to avoid glossy screens as they reflect back and get a screen resolution of 1920×1080, which is a full HD screen, and will result in great image quality and plenty of room to keep your windows in view.
The CPU of your laptop, the brain that will carry all the commands. There are three core ranges; Core i3, Core i5, or Core i7. Core i3 is for entry-level laptops, Core i5 is the in the majority of mid-range laptops, and Core i7 is for high-end laptops.
As the times are changing so is the laptop storage. Initially, hard disk drives were quite popular, but with the new sleek designed laptops, the solid-state drive (SSD) is more popular, and well faster as well as being more expensive.
Lastly, the USB 3.0 ports in your laptop are necessary. They are important to have so that you can connect your mouse, keyboard, or any other external hard drive.
Best budget Laptops
HP Chromebook x360
Price: Rs. 44,900
Order now
Specs

Processor
Intel Celeron N4020
RAM
4 GB
Screen Quality
11.6″ diagonal
HD (1366 x 768)
USB
2 × USB 3.1
Weight
1.47 kg (3.24 lb.)
Hard drive
32 GB
eMMC 5.0
The Chromebook is a touch screen, portable, device with adequate Ram and is perfect for travelers, and students. For most parts, it's a good deal but for some users, the 4 GB RAM might not be enough, in that case, you can always go for an additional SSD card support. Moving on to the screen resolution of 1366 by 768 is good enough to give you an HD view. Although the screen size might be small compared to other laptops, remember this is a portable Chromebook, any size bigger than this will compromise its portability.
HP ProBook MT31
Price: Rs. 44,999
Order now
Specs
Processor
Intel Celeron 3865U processor
RAM
4 GB
Screen Quality
13.3″ diagonal
HD (1366 x 768)
USB
2 × USB 3.1
Weight
1.48 kg (3.26 lb)
Hard drive
128 GB SSD
HP ProBook is kind of a mini laptop that is portable; hence, it would make a perfect travel buddy. With a 128 GB SSD already installed, this is laptop won't slow you down on your expeditions. Even for gamers who are only limited to online games, it's a decent choice to go with. People who conduct online meetings or students taking online classes are in dire need of a good camera, and HP ProBook does offer a 720p HD webcam. Other main features of the device include a processor of 1.8 GHz and 2 MB cache Intel HD Graphics.
HP Engage Go Mobile
Price: Rs. 50,000
Order now
Specs
Processor
Core i5
RAM
4 GB
Screen Quality
12.3" diagonal
1920×1080 HD
USB
2 × USB 3.1
Weight
1.09 kg
Hard drive
128 GB SSD
HP Engage Go mobile is a tablet PC with a biometric fingerprint authentication system that means the device was invented keeping in mind high-security protocols. In addition to its high-tech Security, the tab carries a CPU of core i5 and RAM of 4GB. The core i5 is an upgraded version in terms of laptop Tech, but the 4GB RAM is a drawback that most people do not like. However, to overcome this drawback, you can always go and manually upgrade it later.
Moving on, this tablet PC is a perfect solution for travelers and for people who like to read digitally, with its 12.3-inch screen and 1.09 kg weight; it is a perfect size, screen resolution, and therefore is the best fit for travelers and readers alike.
Lenovo Ideapad 330
Price: Rs. 52,499
Order now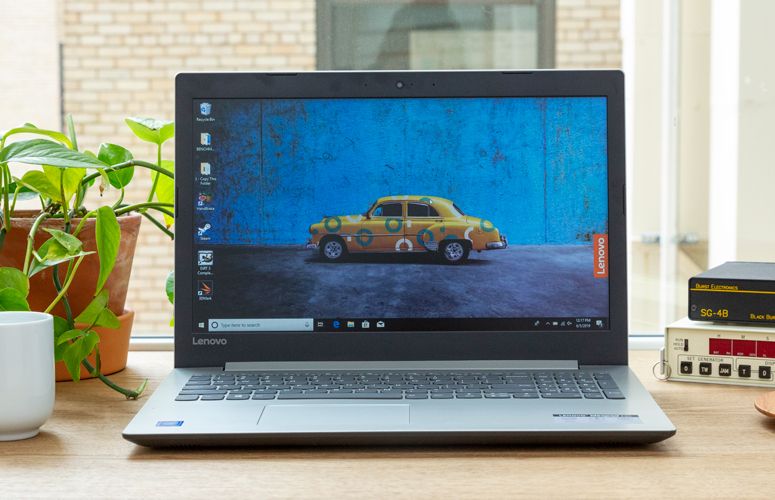 Specs
Processor
Intel Celeron DualCore N4000
RAM
4 GB
Screen Quality
15.6″ diagonal
HD (1366 x 768)
USB
2 × USB 3.0
1 × USB 3.1
Weight
2.2 kg / 4.85 lbs
Hard drive
1 TeraByte HDD
Lenovo IdeaPad 330 is what I call a real deal, with its magnificent screen size of 15.6 inches and HD resolution of 1366 by 768; this laptop is hard to pass on. Although it does not have an ideal weight for traveling, the storage on this device is exceptional with its core i5 CPU. In other words, if you are a gamer or someone who works with immense files or deals with heavy downloads, this laptop is an ideal choice for you. Nevertheless, if you are a Netflix and chill person, this laptop will work wonders for you with its 2*2 speakers omitting Dolby audio.
If you are as fun-loving as me, you would love the specification, which offers a backlit numeric keyboard. Although it is optional, you can always go out of your way for something fun. Lenovo IdeaPad 330 offers you five different colors to choose from; Platinum Grey, Blizzard White, Midnight Blue, Chocolate, and Onyx black.
HP Elite x2
Price: Rs. 56,999
Order now
Specs
Processor
Core i7
RAM
8 GB
Screen Quality
12 in diagonal
1.3 Ultra-slim
USB
1 × USB 3.1
Weight
1.2 kg / 2.64 lbs.
Hard drive
256 GB SSD
M.2 SATA TLC
HP Elite x2 has essentially everything you look for in a laptop, ranging from its Core i7 CPU to its exceptional screen resolution of 1080 p HD. This device is a dream come true for technology admirers as how impressively put-together it is. HP Elite x 2 has a detachable keyboard and a touchscreen tablet. In addition to having a backlit keyboard, the amazement of its features doesn't stop there. The laptop, with its keyboard, weighs only 1.2 kg, making it possible for you to travel easily.
Let's summarise the qualities; it is lightweight with a detachable keyboard. You can use it as a tablet or a laptop and can take it anywhere with you. Lastly, the best part about it is that the RAM of this computer; double the RAM of all the previous laptops listed above; 8 GB RAM, and has 256 GB of SSD with the speed of M.2 SATA TLC. HP Elite 2, Compromises everything and every factor discussed above and is worth every penny.
Well, this was all when it comes to buying laptops, and we hope that everything that is listed above will be helpful to you and will assist you in making an informed decision. In case, laptops were not what you wanted to buy but still stumbled upon this article, we have other devices that can assist you in setting up your PC or getting an indescribable gaming experience. Be sure to check out our collection of gaming mice, which mind you are under a budget, or take a look at our dashing RGB lit gaming keyboards.
Read more