Gaming monitors are a great deal to be concerned about when building a gaming PC. All the high-end hardware and swift processors rely on your choice of monitor. As it depicts all their features according to the type of resolution it is running on. You can't simply run a 120fps game on a low-frequency monitor even if you have a high-quality GPU. It isn't just the resolution, there are many factors that make an ideal gaming monitor.
Read more https://outgamers.com/5-best-gaming-mouse-under-rs-5000/
Characteristics of the Best Gaming monitors
Many hardware developers portray their marketing strategies to confuse the gamers and lure them at the same time. If you are willing to buy a durable yet affordable monitor then you'll have to carefully sift through your choices to reach the perfect one. We have compiled some essential features which are crucial for gamers and their skill level.
Most importantly when buying a monitor it is crucial to determine whether you want it for general, professional, or gaming our purpose. This way you can categorize your features better.
Resolution: The resolution is the key ingredient of any gaming monitor. A high-resolution monitor yields better pictures.
Size: The density of pixels makes up a monitor's size thus size is also a crucial feature of an ideal monitor.
Response Time: It is essential for every monitor designer particularly for gaming to have a shorter response time.
Refresh Rate: Similar to resolution, the higher your refresh rate the better graphics it provides. The refresh rate is the rate at which the monitor updates the latest data every second in hertz (Hz).
In this blog, we'll give you a detailed analysis of buying the best 144 Hz gaming monitors and the choices you have.
BenQ ZOWIE XL2731
Specifications
Screen size: 27 inch
Resolution: 1920×1080
Aspect Ratio: 16:9 (Widescreen)
Response Time: 1 ms
Panel Type: TN
The monitor that made it to the top of our list is BENQ ZOWIE XL2411P which does great in terms of color performance and has an sRGB rating of 96%. It aims to improve the competitive gaming experience with a technical formula that extracts every ounce of performance from a frame. Moreover, it utilizes a TN panel which is a gem to look at.
Click here to Buy now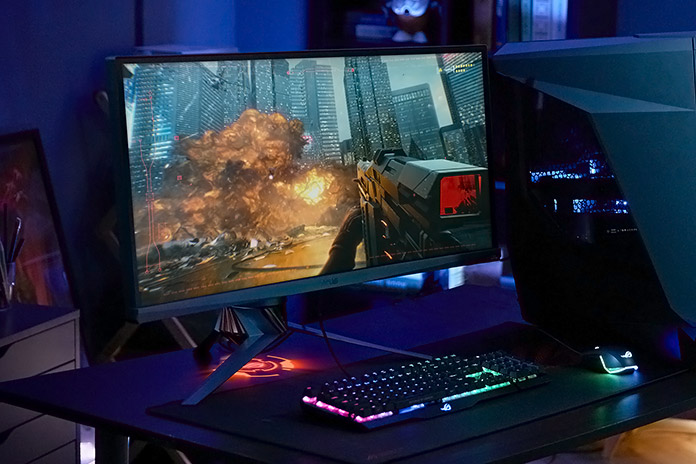 ASUS VG278QR
Specifications
Screen size: 27 inch
Resolution: 1920×1080
Aspect Ratio: 16:9 (Widescreen)
Response Time: 0.5 ms
Panel Type: TN
The ASUS VG278Q is the cheapest 1080p 144Hz 1ms gaming monitor that offers FreeSync, certified G-SYNC compatibility, and motion blur reduction. When it comes to image quality, you won't be exactly blown away having a TN panel, which means you get an inferior picture quality in comparison to other panel technologies as well as the narrow 160°/170° viewing angles.
Moreover, it has a fully ergonomic design and plenty of useful gaming features. If you're a hardcore FPS gamer, though, that shouldn't bother you, as in return, you get a flawless performance.
Click here to buy now
View Sonic XG2405
Specifications
Screen size: 23.8 inch
Resolution: 1920×1080
Aspect Ratio: 16:9 (Widescreen)
Response Time: 2 ms
Panel Type: IPS
The ViewSonic XG2405 offers great image quality and performance for the price as well as excellent design and plenty of additional features. It has a 24-inch 1080p 144Hz display based on PANDA's IPS panel which delivers accurate colors, wide viewing angles, and good response time performance. It's proven to be one of the best monitors you can get for gaming under your budget.
Click here to Buy now
HP Omen 25
Specifications
Screen size: 24.5 inch
Resolution: 1920×1080
Aspect Ratio: 16:9 (Widescreen)
Response Time: 1 ms
Panel Type: TN
HP Omen 25 is based on a 24.5″ TN panel by AU Optronics with a peak brightness of 400-nits, a static contrast ratio, If you're a competitive FPS gamer, you probably won't mind the narrow viewing angles nor the mediocre colors of TN panels since you get a quick 1ms response time speed; so, it's a fair deal.
AOC CQ32G2E
Specifications
Screen size: 32 inch
Resolution: 2560×1440
Aspect Ratio: 16:9 (Widescreen)
Response Time: 1 ms
Panel Type: VA
The AOC CQ32G1 is a decent overall monitor. It's a good choice for gaming thanks to its 144Hz refresh rate, VRR support, and extremely low input lag. Luckily, it has a black frame insertion feature to help improve the appearance of motion. This monitor has a VA panel with a very good contrast ratio and it has surprisingly fairly wide viewing angles, so it's still a good choice if you need to share your screen with a friend.